INVESTOR RELATIONS
Welcome to the Delek US Holdings investor relations homepage. In this section, you will find a breadth of information on our company, in addition to a number of useful tools designed to help inform institutional and private investors, industry analysts and the media on Delek US Holdings and its subsidiaries.
Overview
Founded in 2001, Delek US Holdings, Inc. (NYSE: DK) is a downstream energy company with assets in petroleum refining, logistics, convenience store retailing, asphalt and renewables.
Investment Highlights
Acquired remaining 18.4 percent of outstanding units of Alon USA Partners on February 7, 2018
Acquired Alon USA Energy, Inc. (NYSE: ALJ) on July 1, 2017
Anticipate annual synergies of $115 to $130 million to be achieved in 2018
Acquisition results in a larger, more diverse company that is well-positioned to take advantage of opportunities in the market and better navigate the cyclical nature of the business
to unlock significant logistics value from Alon's asset base through potential drop downs to Delek Logistics Partners, LP
Crude slate has largest percentage of Permian Basin sourced crude of any independent refiner
Strong financial position supports ability to return value to shareholders
Read More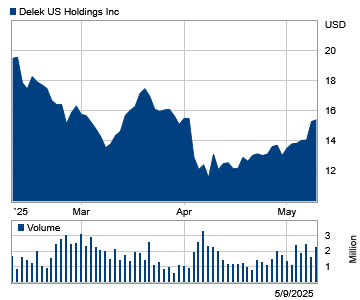 Copyright West LLC. Minimum 15 minutes delayed.
INVESTOR EVENTS
There are currently no events to display.
WEBCASTS & PRESENTATIONS